Business Growth Resources
ebooks
Unlocking the Power of Search Engine Marketing
There are over five billion searches made every day on Google alone. With most people not looking past the first page of Google's search results, it's imperative that your company shows up as a top result. Search Engine Marketing (SEM) can push your website to the top of the search engine result pages to exponentially increase your chance of your link being clicked. This eBook will explain how SEM can help your company gain instant website traffic, how search and display ads can reach your customers, and how you can obtain your leads' contact information.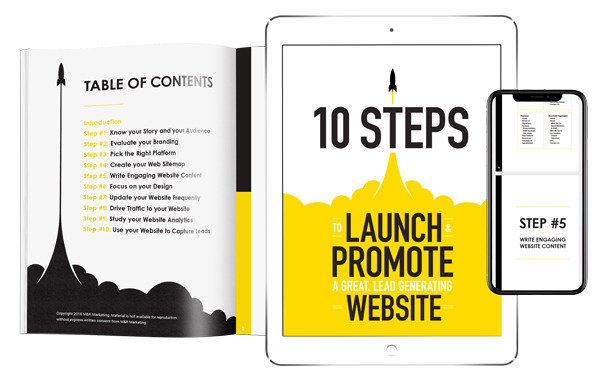 10 Steps to Launch & Promote a Lead Generating Website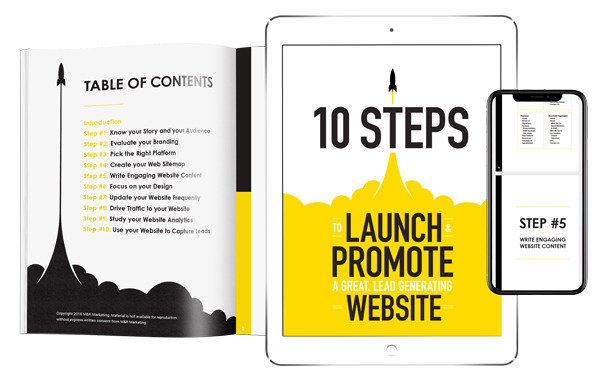 In a world where people stay online for most of the day, a standard website just doesn't cut it. Research shows that up to 83% of consumers visit a company's website before making a purchase. If you've decided it's time for a new business website but you're not sure where to start, you're in the right place! In this short but helpful resource, we will share 10 steps to help you prepare for and launch a great website that will also generate new leads for your business.
Setting Business Growth Goals that Stick
Business owners have a wide variety of responsibilities and most days we are just hoping to survive and make it home in time to enjoy dinner with our families. When our days are spread so thin, it's difficult to identify what we accomplished. So, amid all the important distractions, how do we set and achieve goals that spur business growth? Download this helpful resource and get going on the right path to setting and accomplishing your most important business goals.
4 Ways to Test & Evaluate Your Website's Perfomance
Your website is the front door to your business for most potential clients, so it's important that it be up to date and make an excellent first impression. In this free resource, we'll help you first determine the primary purpose of your website based on industry, then help you perform a self-evaluation of your website in 4 key areas: website design, website technology, website content, and search engine optimization.
Grow From Within
This free eBook carries one basic assumption: every business has a desire to grow. With growth as our focus, we will address an opportunity with a high yield but one that is often overlooked. We'll explore several ways to grow your business from the inside out. Our goal is to encourage you to pause, peel back the layers of your business, and question why you do what you do and how you can do it more effectively.
Identifying & Targeting Your Ideal Client
Knowing what makes your ideal client tick is an important factor in growing and maturing your business, as well as client retention. By understanding your ideal client's buyer profile, psychographics, and buying insight you'll learn how to improve your messaging and advertising, generate better leads, shorten sales cycles, separate from competitors, and target the decision maker.
4 Resources to Help Capture Contact Information from Website Visitors
Content marketing changed the relationship between consumers and businesses by giving the consumer more information and resources in the beginning stages of the buyer journey. Your company should be an invaluable resource to the consumer by offering free, relevant resources that aid them during the research process! This eBook will explain how to determine who your target audience is, what informational resources you can provide them, and how to promote it to consumers.
5 Branding Secrets to Grow Your Business
Branding is often overlooked but serves as the core of everything you do. Branding is more than the color palette and font choices in your logo, it's what sets your brand apart from the others in your industry. This resource will help you discover who you are as a company and what your values are. Once you've established your story and values, this eBook will guide you through establishing consistent marketing efforts and cascading them to your team. And lastly, never settle. Branding work is never done.
Transform Your Marketing in 4 Steps
Effective marketing begins by looking inward. In this eBook, we'll teach you the importance of knowing who you are as a brand and how to define your target audience and their behaviors. Buyer personas make it easy to reach who you want to reach and avoid wasting money targeting the wrong audience – download the eBook to learn what's important to focus on when creating it. And finally, we'll discuss why a marketing strategy is important and ways to track the success of the strategy for constant optimization.