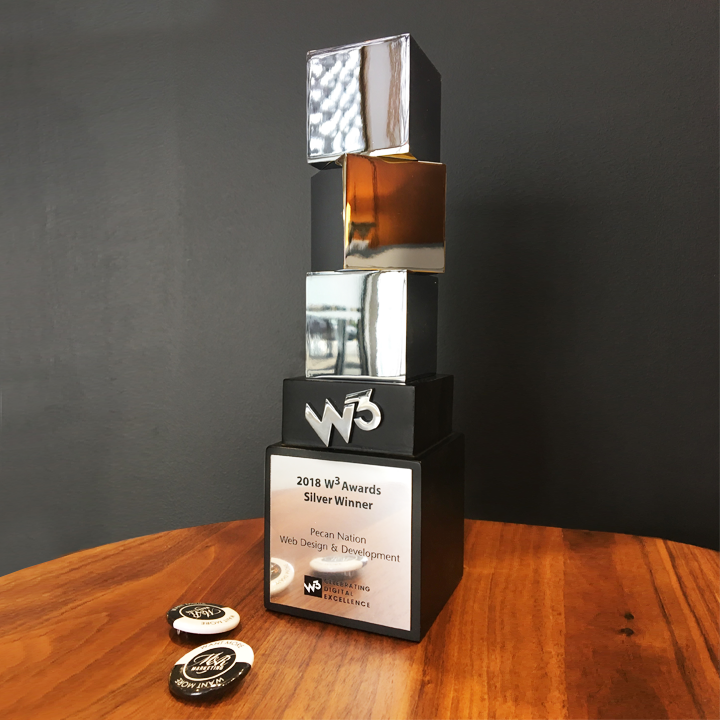 Macon, GA – March 12, 2019: M&R Marketing recently received a prestigious W³ Silver Award for Website Design and Development for the creation of Pecan Nation's website (thepecannation.com).
Sanctioned and judged by the Academy of Interactive and Visual Arts, the W³ is a major web competition that recognizes digital excellence in websites, web marketing, video, mobile sites/apps, and other social content. It's the first major web competition for all sizes of agencies and content creators, from small firms to Fortune 500 companies.
"We wanted to make this site exciting and engaging," said Heather Waldron, M&R's art director and the primary designer on the project. "The client came to us with the goal of helping people understand why pecans are healthy. The final design combines vintage-style illustrations with vibrant colors and a modern layout to give the site a unique feel," she continued. "We wanted to make the site easy to use and understand."
"I'm really proud of the hard work our team put into this project," said M&R co-founder Matthew Michael. "We're so thankful for the award, but even more thankful for the opportunity to work with great clients like Pecan Nation and Genuine Georgia. We thoroughly enjoyed working closely with their team to create a website they could be proud of."
Pecan Nation is a Genuine Georgia company that grows, prepares, and sells premium Georgia pecans. Their premium pecans can be found in major grocery chains across multiple Southeastern states.
For more information, please contact Matthew Michael at 478-621-4491 or matthew@mandr-group.com.
Contact
M&R Marketing
Matthew Michael
478-621-4491
matthew@mandr-group.com